Bespoke Versions
There are some of the bespoke versions of the plugin I have built for clients
Clicking on the images will take you to a demo of the plugin. Note that the styling on each is editable but set to meet the client's wishes. If you want your own version Contact Me.
This version of the plugin was created for a client who wanted a short term loan repayment calculator. The idea is you chose the amount then select a day when you want the loan. You then have the option for a single repayment or installments where you chose when you can make the payments.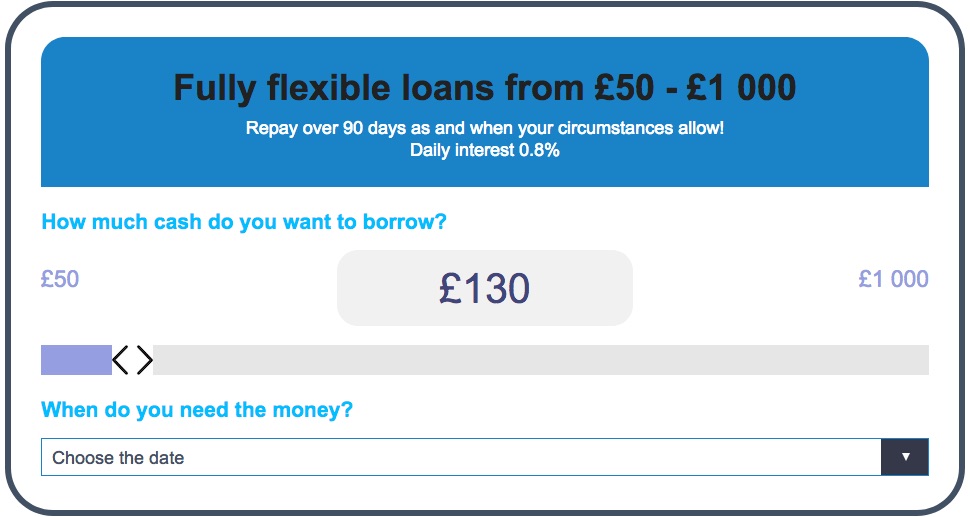 This version of the plugin is still in development. It lets you calculate how much it costs to proofread a document. You can then upload the document and make a payment. This sort of workflow is applicable to all sorts of things where a quote is required and a document or image uploaded for something to then be done.
This version has two sliders and filters the lenders on both amount and loan period. It was created for Comparia.
This version has a single slider with filters
You enter the parameters and the calculator will tell you how much your repayments will be daily, weekly or monthly.

This one is for a telephony company who wanted a quote tool for their system:
No sliders on this one. This version calculates how much you get from a range of providers:

Let you calculate how much you would pay in fees on various crowdfunding sites:
There are more:
Barry is a Swedish variant of the comparia plugin but they wanted a single slider and markers.
Charles is for short term loans but has a clever two part application form.
Derek calculates agent fees.
Frank is a simple slider but the outputs are generated from a two-way table.
Gerald is the comparia version in Romanian.
or there is an adaption of Gerald used here: enklalan.se.
If you want your own version or one of the above Contact Me.